Hi everyone! I'm very excited to announce our first Top 5 Friday! Every Friday we will list our Top 5 fav posts from around the blogosphere, and each Friday will feature a new subject.
You can check out our favs, as well as create your own Top 5 list or blog post on that weeks subject and link to it via the Mr.Linky at the bottom of the post! (if you have an old post that you would like to share, you can do that too!) Every Thursday we will announce that weeks subject so you have time to get everything ready. And you MUST link back to Top 5 Friday in your post so readers can easily navigate back and forth. For more info and Rules, click HERE. This weeks subject is:
Top 5 Money Saving Blog Posts
Lazy Man and Money - Save Money on Gas:
This post features several ways that you can save money on gas, improve your gas mileage, etc.
Gather Little by Little - How to Save Money by Increasing Your Expenses:
This post shows a fairly easy and new way to look over your budget and save money.
Mom Advice - Making Your Own Cleaners:
It's all in the title, a great post featuring "recipes" for making your own household cleaners.
The Simple Dollar - 100 Great Tips for Saving Money:
That's right, there are actually 100 tips in this post!
Five Cent Nickle: Save Money With Do-It-Yourself Car Repairs:
Simple, easy to do car repairs/maintenance that can keep your car running and keep you from getting scammed into spending thousands in repairs at a shop
I went with posts that caught my interest, and were all really easy to do. The easier the better! Now it's time to share your fav tips; do your own Top 5 or share one of your money savings posts! Just fill in the linky below with"Your Blog Name - The title of Your Post" and put the direct url to your post, not your blog url. And don't forget, you need to link back to Top 5 Friday! Can't wait to see what you all come up with!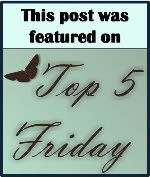 Was your post featured in this weeks Top 5 Friday? Then show it off! Here's a button you can put in your post, just be sure to link back to the Top 5 Friday post! Just copy and paste the code below: